>> Tuesday, September 21, 2010
I just wanted to say thank-you to everyone who voted for my layout over at PapercraftStars; it was chosen as the winning project for Challenge #13.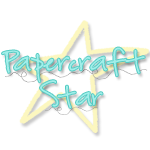 It has been very dreary and gloomy here lately which is totally affecting my mood, but it sure brightened my day to turn on my computer this morning and discover that I had been voted the People's Choice. So thank you to everyone who voted for me in the challenge and thank you also for all of your lovely comments and encouragement.
I hope you are all having a wonderful day, even if it is gloomy where you are.